Curriculum Vitae – 2014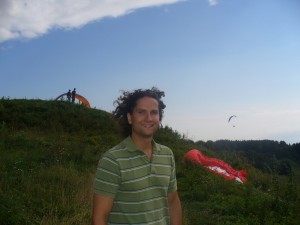 Tomas Butvilas
D.O.B.: 12/05/1976
Educational status: Doctor of Social Sciences (minor in Educational Psychology S-283)
E-mail address: tbutvilas@mruni.eu
Positions held:
Assoc. professor, Institute of Education Sciences and Social Work at Mykolas Romeris University.
A member of CREAN network (FUB, Berlin).
A member of ENMCR network (FUB, Berlin).
A member of ICYRnet network (Cyprus).
An academic committee/board member of scientific peer-reviewed journal "Studies in Contemporary Society", Šiaurės Lietuvos kolegija, Šiauliai (since 2008)
A member of editorial board for the blinded peer-reviewed international journal "US-China Education Review" (David Publishing Company, USA, ISSN 2161-623X, since 2014)
A board member of National Childhood Researchers Association (Lithuania).
A former member of the American Psychological Association (APA), Washington, DC.
A former member of the American Educational Research Association (AERA), Washington, DC.
An expert of the "Lituanistika" Database of The Humanities and Social Sciences in Lithuania.
Lithuanian Science Board expert (LMT) (since 2010).
An expert at the Studies Quolity Assessment Center (SKVC) (since 2011).
Work experience (duration): 5 yrs. as a teacher; 12 yrs. as a scientist and lecturer; 8 yrs. as the projects' consultant/expert.
Scientific activities, participation in an exchange programs/internships:
Country

Years, Institution, Duties:

Omaha, Nebraska USA

Jan. Thru April 2002 – an internship at the University of Nebraska at Omaha (UNO). URL: www.unomaha.edu

Omaha, Nebraska USA

May thru Oct. 2003 – educational practice at Mount Michael Benedictine Abbey and High School (Elkhorn).

URL: www.mountmichael.org

Lithuania

2002 – 2003 – the advisor of an international project "Zippy's Friend" that is dedicated to pre-school children and their social skills' development.

Lithuania

2002 – 2003 – participation in the scientific project "Lithuania's Future in the World Context 2010-2020" (Scenario Planning).

Fribourg, Switzerland

July 2005 – scientific internship of Gebert Ruef Fund at Fribourg University.URL: www.unifr.ch

Norway, Oslo

July 2006 – scientific internship of NordForsk Fund at Oslo University, The Oslo Summer School 2006. Course on Poverty, Social Exclusion and Modernity (Prof. S. Schwartzman).URL: http://www.sv.uio.no/oss/

Romania, Iasi

Germany, Berlin

July 2007 – meeting and conference at Alexandru Ioan Cuza University under the project of European Network of Masters in Children's Rights (ENMCR).URL: www.enmcr.netNovember 2007 – meeting at Freie Universität Berlin; November 2009 – meeting at Freie Universitat Berlin; December 2012 – meeting at Freie Universitat Berlin.

Germany, Bremen

April 2009 – Bremen Workshop on "Qualitative Longitudinal Research and Qualitative Resources in Europe: Mapping the Field and Exploring Strategies for Development", University of Bremen, Germany. URL: www.timescapes.leeds.ac.u